SCREENSHOTS: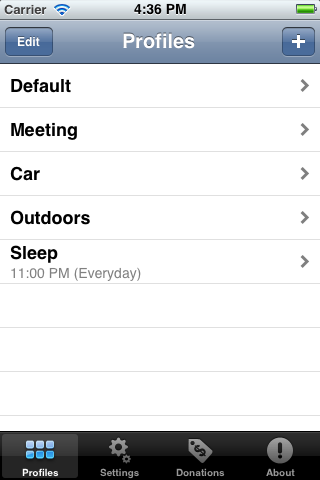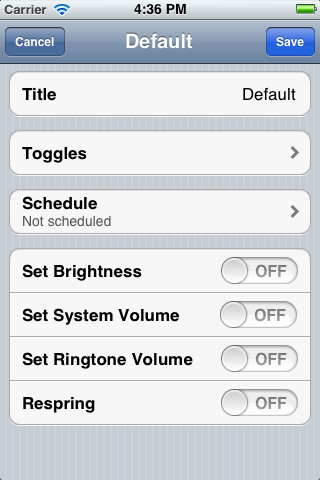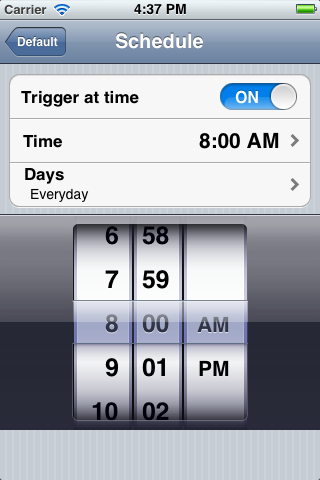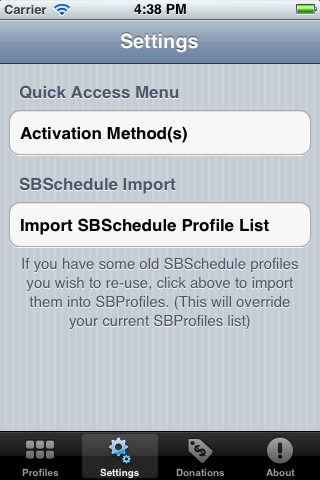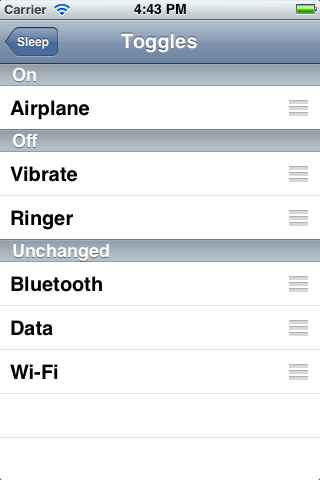 DESCRIPTION:
Compatible with iOS 3.2+, 4.x and 5.x
SBProfiles allows you to combine your SBSettings toggles into profiles that can be triggered at a given time or manually applied via a Quick Access Menu from any app or even from your Lock Screen. Profiles can also be triggered automatically based on which WiFi network you're connected to. (i.e. you may have one profile when on your Home WiFi, another one when on your Work WiFi and a third one when no WiFi is available)
Each profiles can be configured to switch a series of toggles on or off in the order that you specify. This allows you to fine tune all your settings exactly the way you want them to be depending on your location or time of day.
For example, when you're home you might want to turn WiFi and your Ringer on, but turn Vibrate, Bluetooth and Cellular Data off. But when you're at work, you might want WiFi and Vibrate on but Ringer off. And when you're asleep, you might want Airplane on and leave everything else untouched.
As well as switching toggles on or off, each profile allows you to set your display's brightness level, your system volume, or your ringtone volume. You can also program your device to respring or reboot at a given time and on certain days of the week.
SBProfiles is available in the following languages:
- English
- French
- German (thank you Markus)
- Spanish (thank you Carlos)
SBProfiles works on iPhones, iPads, iPods and is compatible with iOS 3.2, 4.x and 5.x. (WiFi-based triggering is only available from iOS 4.1 onwards)
I rely on your donations to maintain and improve this app. So if you like it, please donate.
Configure options from SBProfiles app
See larger Screenshots below
VERSION:
v 1.5-2
* Fixed applist dependency
[NOTE] To activate this simply open SBProfiles app, tap on "Donations" tab, enter anything you wish as Name (example: Fabius) and anything you wish as Product Key (example: 123). Then tap on Register button. Ensure you're connected via WiFi or 3G for your license to be downloaded!
DOWNLOAD:
MULTIUPLOAD
MEDIAFIRE
Fabius