iFile 1.7.2-2
---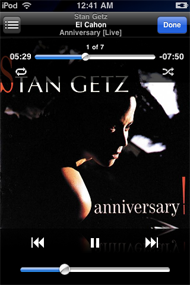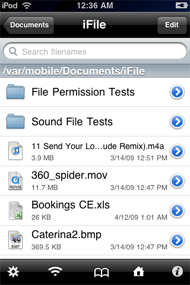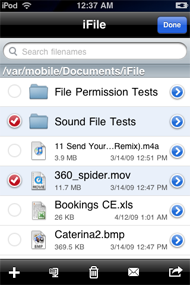 DESCRIPTION:
For iPhone, iPod touch, and iPad.
iFile is a complete file manager and viewer running under user root. iFile gives you full access to your jailbroken device's files, like Finder does on your desktop Mac. iFile is your tool for advanced management and customization of files on your device.
iFile allows fast navigation through the iPhone file system in multiple tabs. You can directly view files of many types, including images, movies, sound, text, HTML, web archives, Microsoft and Apple iWork files, PDFs, and compressed formats.
iFile lets you handle software files and multimedia in flexible ways, including:
* Copy, paste, rename, and move files.
* Edit text files and property lists, such as configuration files.
* Install .deb software packages.
* Pack and unpack ZIPs and other compressed files.
* Import mp3s and other files into your iPod library (using Gremlin2 on iOS 4.x).
iFile also provides easy ways to get files in and out of your device:
* Upload and download files from iFile's built-in web server via a web browser or connecting to it as a network drive (WebDAV).
* Manage, copy, and move files in your Dropbox account.
* Send files as email attachments.
* Mount Apple disk image (DMG) files.
* Send files to iFile on other iDevices via Bluetooth
* Integrates with AttachmentSaver, Safari Download Manager, and Celeste Bluetooth File Sharing.
iFile has a free version with basic features. For complete features listed above, you can purchase a license.
See larger Screenshots below
VERSION:
1.7.2-2 – Bugfix Release (iOS 4.x and later)
VERSION:
Fixes
Fixed wrong field height in Preferences on iPad.
1.7.2-1 – Feature and Bugfix Release (iOS 4.x and later)
Enhancements
iFile will now show a movie icon for avi files.
iFile's web server shows now also App names and song titles instead of cryptic paths when these options are enabled in iFile's preferences.
Updated iFile's web server's favicon.
Added support for automatically uploading text files edited on an FTP server after a save operation in Text Editor.
Fixes
Explicitly setting of black background for tab chooser.
Avoided dead lock when password entry for FTP server was required, but GUI was blocked by glass pane.
Fixed that navigation bar did not get hidden during search on FTP server and Dropbox.
Fixed that search on FTP server and Dropbox did not show matching directories.
Added workaround to avoid crashes during directory listings on FTP servers not supporting UTF8 natively. Files with special characters on such servers list now correctly, but cannot be renamed, moved or copied.
Fixed broken creation of symbolic links via 'New' form.
Fixed GUI glitch of too large field for buying an iFile license.
Fixed empty preferences after returning from About iFile.
Fixed that hierarchical search always searched also in hidden folders independent of iFile's preferences setting.
Fixed that for cached files from an FTP server the list of file viewers was incorrectly displayed.
Fixed that an cancelled FTP file transfer did not get interrupted.
Fixed that file name of the ZIP got shortened when it contained multiple dots in its name.
Fixed that deletion of multiple files on FTP server stopped after first file deletion.
Fixed that a select all in search results did not make the toolbar visible again.
Corrected behavior when editing attributes of a file in search results: After pressing done in Attributes Editor, the user returns to the current directory instead of the search results.
#Guy's this is not made for fabius
in short this is beta crack for me with original command for mr fabius